Touch Trainer FM210 Simulator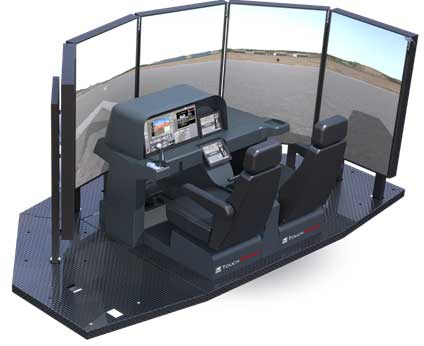 Touch Trainer FM210 Simulator
$125/hour for advanced aircraft like the Diamond and the Cirrus (Flight instructor $75/hour)
$85/hour for basic Cessna and Piper aircraft (Flight instructor $55/hour).
Located at KPIE
The Touch Trainer FM210 Simulator is a very high performance, FAA certified Basic Aircraft Training Device (BATD) that can simulate more than 125 individual aircraft, avionics, autopilot and systems combinations. It is reconfigurable to include almost every aircraft in the TBA fleet from our SR22 to the DA42 and even our older analog Cessna and Piper aircraft.
With this simulator, there is no such thing as generic aircraft simulation thanks to the unique FAA Approval to use touch screens and software enabling re-configurations with aircraft specific implementations of instrumentation, avionics, Electronic Flight Decks, electrical systems, aircraft and engine performance, autopilot operation and more. All of this to allow techniques, performance, procedures and proficiency learning in the simulator that is directly transferable to the aircraft.
The addition of a robust, high-fidelity visual system like you would find on far more expensive full motion simulators, elevates this ATD beyond mere procedure trainers to powerful training environments for the entire range of flying skills. Its Advanced Visual system wraps-around the cockpit 210 degree wide by 70-degree vertical display which exceeds FAA Level D standards. This enhances the learning environment for landing, takeoff and other skills.