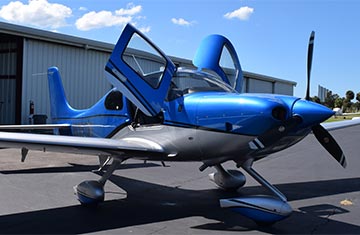 Cirrus Training
Cirrus SR22 Basic Transition Course - The Cirrus Perspective SR22 Transition course is designed for licensed pilots who wish to fly a Cirrus aircraft to VFR proficiency level.
Cirrus Transition Course
The course focuses on mastering aircraft control, engine management, use of avionics, use of autopilot, and important emergency/abnormal situations in VFR conditions. The Cirrus Transition Course is a combination of ground school and flight lessons, which provide an introduction to both the Cirrus aircraft and the advanced avionics it offers.
Cirrus SR22 Advanced Transition Course – The Advanced Cirrus Transition course is designed to transition proficient instrument rated pilots into a Cirrus SR22 with a high level of instrument capability. This course focuses on Basic Attitude Instrument Flying (CAIF), IFR operations, procedures, instrument approaches, aeronautical decision making (AD) and risk management.
90 Day Refresher Course – Recurrent training supplements the skills acquired from the initial transition course. The 90 Day Refresher Course is scenario-based instruction that focuses on landing accuracy, review of normal procedures, and basic aircraft handling.
Landing Standardization Course - This short course will focus on improving the skills required to perform successful and safe approaches and landings. An estimated 1.0 – 1.5 flight hours will be required for completion of this syllabus.
Powerplant and Airframe Differences – Powerplant and Airframe Differences is tailored to meet the needs of those who have recently upgraded from an SR20 to an SR22. This course focuses on operational differences between power-plants and airframes including performance and handling differences as well as managing a higher performance aircraft.
Other Cirrus services offered:
• Initial training
• Rentals
• Flight Review (BFR)
• Instrument Proficiency Check (IPC)
Not an FAA part 141 approved course
IS FLIGHT TRAINING RIGHT FOR YOU?
TAKE THE "TAMPA BAY AVIATION FLIGHT TRAINING READINESS" QUIZ
The fun online quiz takes 3 minutes to complete and you'll get a personalized report. Identify your strengths and social style plus the training and positions you're best suited for. Get Your Flight Training Readiness score now!
What Our Students Are Saying
Don't just take it from us, let our students do the talking!
"I absolutely CANNOT say enough good things about this operation! Just got my CFI from them, and had fun doing it (which I'm told is not a common phenomenon). It took minimal time, and the cost was about what you'd expect to pay at American Flyers, or ATP for CFI. However, the quality of training you will receive here will far exceed the standard of the "pilot mills". Larry was my primary instructor but I also flew with Josh, Durant and Mike, all of whom were very knowledgeable and professional (in addition being "down to earth", and cool). Look no further than these guys for all of your flight training needs! They're awesome!!!"
"Known to be the best Part 61 school for a reason!
"Tampa Bay Aviation is an excellent operation. My son did his flight training here last summer and earned his Private Pilot License, and it inspired me to learn to fly as well. The instructors are excellent, the aircraft are up to date and the staff is friendly and helpful. We have recommended them to several friends and they have had excellent experiences as well. Overall, it is a great place to fly. i HIGHLY recommend it!"
Frequently Asked Questions
Am I eligible to get a pilots license?
Be at least 17 years old.
Be able to read, speak, write and understand the English language.
Pass a required knowledge test.
Pass a required oral and practical flight test administered by a FAA designated examiner.
Hold either a student or sport pilot certificate.
Get a Third Class Medical Certificate.
How much time will it take?
IN THE AIR - The FAA  requires a minimum of 40 Hours Total Flight Time with 20 Hours Flight Instruction. However, many students require more time. There's no rush and we won't push you to complete your training until you're ready. Our students average around 50 total hours of training.
ON THE GROUND – 35 Hours Ground Instruction
Questions About Flight Training?
Have questions about flight training? Contact us and someone will get right back to you.