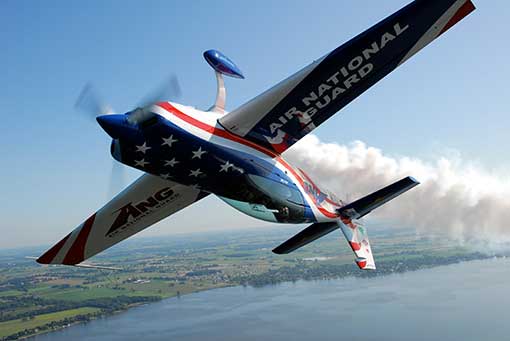 Flying aerobatics helps pilots avoid and react to emergency situations and unusual attitudes
Plans and Pricing
Fly and train with our two-time Master CFI-Aerobatic, Tony Johnstone in our 1997 Super Decathlon.
Well, for an initial CFI certificate it is required anyway (FAR 61.183).  So, if you plan to be a CFI you must get it at some point, whether during your private, instrument or commercial training.  Besides, if you were put into a spin right now, how would you react?   Spin training can be used to simulate real-world risks. Distractions, cross controlled stalls turning base to final, accelerated stalls, and incorrect stall recoveries are potential life-threatening events if you enter a spin and do not know how to recover.  Spin training with a CFI with experience in the field is critical to enhancing pilot safety and risk avoidance.
Tailwheel Training- How will a tailwheel endorsement make me a better pilot?  
You will learn to use the rudder more precisely for coordinated flight and increase awareness of the wind and how it affects the aircraft in the two most critical phases of flight- takeoff and landing.   A tailwheel aircraft is much less forgiving when accounting for wind than a tri-cycle gear aircraft and forces the pilot to be more focused and aware.
Flying aerobatics develops stick and rudder skills and helps pilots avoid and react to emergency situations and unusual attitudes.  Not to mention no roller coaster even comes close to the adrenaline rush of your first loop, barrel roll or inverted flight.  Do it because it is fun!
Subsequent Aerobatic, Spin or other training- $439/hour flight time with instruction
NOTE: This spin, tailwheel, and aerobatic training is not FAA part 141 approved.
Spin & Upset Training/CFI Spin Endorsement
Power Off Stall

Falling Leaf Stall

Basic 1,2 & 3 Turn Spins

Cross-Controlled Stall

Accelerated Spin

Inverted Spins

*Each Lesson consists of 1 to 1.5 hours ground instruction and 45 minutes-1 hour in-flight instruction on the above.
Aerobatic Introductory Flight
Aileron Roll

Loops

Competition turns

Barrel Roll

*Each Lesson consists of 1 to 1.5 hours ground instruction and 45 minutes-1 hour in-flight instruction on the above.
Tailwheel Endorsement Package
Tailwheel Takeoffs

Tailwheel 3-point and Wheel Landings

Taxiing a Tailwheel Airplane

*Each Lesson consists of 1 to 1.5 hours ground instruction and 1 to 1.5 hours in-flight instruction.
Aerobatic Training Package
Everything from Intro flight plus:

Half Cuban 8 & Slow Rolls

Competition Spins

Hammerhead Stalls

Immelmans & Cloverleafs

Inverted Climbs, Descents and Turns

*Each Lesson consists of 1 to 1.5 hours ground instruction and 45 minutes to 1 hour in-flight instruction. 
What our students are saying
Don't just take it from us, let our students do the talking!
"I absolutely CANNOT say enough good things about this operation! Just got my CFI from them, and had fun doing it (which I'm told is not a common phenomenon). It took minimal time, and the cost was about what you'd expect to pay at American Flyers, or ATP for CFI. However, the quality of training you will receive here will far exceed the standard of the "pilot mills". Larry was my primary instructor but I also flew with Josh, Durant and Mike, all of whom were very knowledgeable and professional (in addition being "down to earth", and cool). Look no further than these guys for all of your flight training needs! They're awesome!!!"
"Known to be the best Part 61 school for a reason!
"Tampa Bay Aviation is an excellent operation. My son did his flight training here last summer and earned his Private Pilot License, and it inspired me to learn to fly as well. The instructors are excellent, the aircraft are up to date and the staff is friendly and helpful. We have recommended them to several friends and they have had excellent experiences as well. Overall, it is a great place to fly. i HIGHLY recommend it!"
Frequently Asked Questions
Am I eligible to get a pilots license?
Be at least 17 years old.
Be able to read, speak, write and understand the English language.
Pass a required knowledge test.
Pass a required oral and practical flight test administered by a FAA designated examiner.
Hold either a student or sport pilot certificate.
Get a Third Class Medical Certificate.
How much time will it take?
IN THE AIR - The FAA  requires a minimum of 35 Hours Total Flight Time with 20 Hours Flight Instruction. However, many students require more time. There's no rush and we won't push you to complete your training until you're ready. Our students average around 60 total hours of training.
ON THE GROUND - 35 Hours Ground Instruction
TIMELINE- The more frequently you fly, the faster you will complete your training. Our schedule is flexible and is one on one with an instructor. This means that you are able to build your own schedule and go at your own pace. We suggest flying 2-3 times per week which averages about 4-6 months of training. 
how much will it cost?
The price will vary greatly on what you fly and how long it takes you to complete each rating. Our aircraft range from $115/hour to $335/hour depending on the model and avionics. There is no set price for training since it all depends on how long it takes each individual person. The above price breakdowns are based on the minimum number of hours, so it will most likely not reflect the actual price.
how often should i fly?
We suggest flying a minimum of 2-3 times a week in order to progress through your training efficiently. Our schedule allows for a customize-able schedule which allows you to choose your own class times and pace! 
how do i pay for training?
We have a couple of different payment options available!
PAY AS YOU GO- This option allows you to pay after each lesson. The lesson prices will vary depending on what you work on each day and how long you are in the plane/with your instructor.
BLOCK RATES- Our block rates allow you to put money down on your account via cash or check to receive a discount on the hourly rate of the aircraft. We will draw from your deposit each time you fly and let you know when uou are running low.
FINANCING- We work with Pilot Finance and We Florida Financial to help finance training. Get more information on these companies on our student/renter page! 
i want to be an airline pilot. how do i get there?
To be an airline pilot you will need to hold an Airline Transport Pilot rating, however there are a few steps to take before you get there! 
Below we have outlined the most common way that we see people reach their airline pilot goals!
PRIVATE- First you will need to get your private pilot license. This allows you to rent an aircraft and go fly when the weather is looking good! 
INSTRUMENT- After your private pilot rating you will get your instrument rating. This adds on an extra level of safety by teaching you how to fly in in-climate weather  and through clouds with no reference to the ground. During your instrument rating you will also learn how to fly on a flight plan and shoot approaches to an airport in low visibility situations! 
COMMERCIAL- The next step is to get your commercial rating. This rating allows you to fly for hire, however you will not have enough time or experience to be able to go fly for the airlines yet. At this point you will have about 250 hours worth of flight time.
CERTIFIED FLIGHT INSTRUCTOR- Your flight instructor rating allows you to teach others how to fly while building your hours toward the airline minimums (1500 hours). 
AIRLINE TRANSPORT PILOT- After building up your time as a flight instructor, you can get hired on by an airline that will then pay for your airline transport pilot ratings and give you a type rating in the aircraft that they fly. You will need 25 hours of multi engine time prior to being hired on at the airlines which most people acquire either after their commercial as an add on rating or as a flight instructor in a multi engine aircraft. 
Questions About Flight Training?
Have questions about flight training? Contact us and someone will get right back to you.